Reduce Vehicle Trips
The transportation sector is responsible for 14% of global greenhouse gas emissions. Based on Town of Truckee's 2016 GHG emission inventory, locally, transportation is responsible for 36% of the community-wide GHG emissions, or 56,428 tons of CO2. Vehicles also emit particulate matter that harms human health, and traffic and congestion cause slow downs and delays on roads. Getting out of your car or reducing vehicle trips is one of the top ways to reduce your carbon footprint. Here's how you can reduce vehicle trips in Truckee:
Ride your bike
Did you know there are over 100 miles of paved trails across Truckee? With such an extensive bike network, it's easier than ever to ride a bike to work, shop for groceries, or hang with friends. And now with dozens of bike manufacturers offering electric models, there really is something for everyone. Replacing your automobile trips with a bicycle or e-bike doesn't just reduce your carbon footprint, but is great for your health and productivity.
View a map of Truckee's bike paths, and visit Lake Tahoe Bicycle Coalition for other resources like safety tips, parking information, and regional bike maps.
PLUS: An e-bike share program will be coming to Truckee in summer of 2022! The program will start with ten docking stations and a total of fifty peddle assist e-bikes.
Ride the bus
TART is available throughout Truckee and North Tahoe! TART also offers shuttle service to Palisades Tahoe and Northstar in the winter, and to summer events like Truckee Thursdays. Check out the TART bus schedule to plan your trip: tahoetruckeetransit.com
Carpool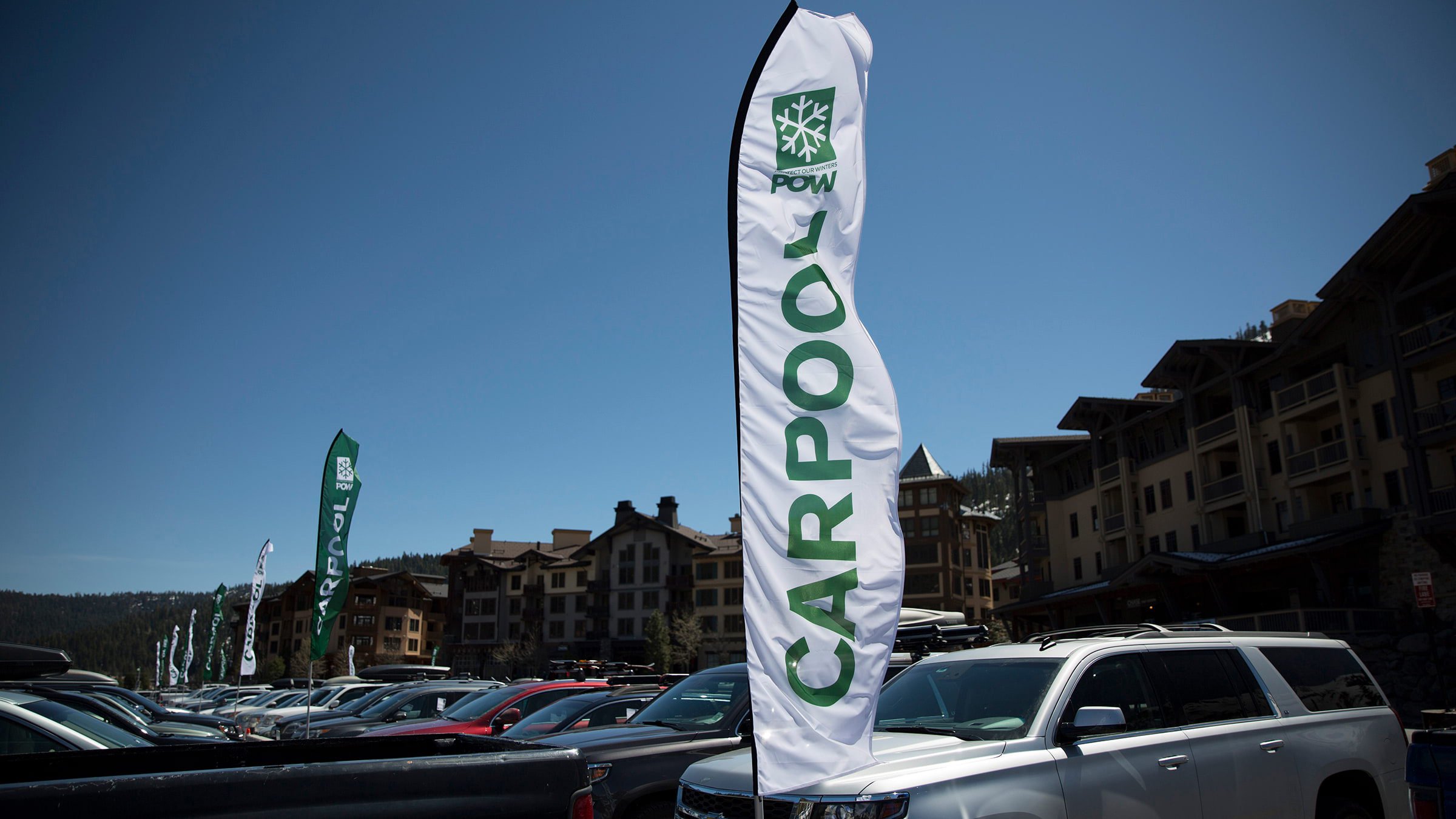 Parking can be difficult to find in Truckee, especially at busy trailheads during peak visitation season. Reduce stress and emissions by piling your group into one car. Palisades Tahoe offers premium parking for guests who carpool with 3+ passengers!
Trip chain
Heading into town? Think about making stops for your errands while you're already out! Adding stops onto your trip reduces vehicle miles traveled and vehicle emissions.
Work from home
Workers that are able to telecommute can reduce their carbon footprint by eliminating emissions from commuting. During March – May 2020, while about 50 Town of Truckee staff worked remotely due to COVID-19, 32,000 vehicle miles were prevented, and 13 tons of CO2 emissions. That's equal to 30 barrels of oil! Telecommuting or hybrid work options offer a great opportunity for offices to reduce collective commute emissions.